1974 Cadillac Coupe deVille for sale!

NO LONGER FOR SALE - I will keep it for myself!
I never drove a car that turned so many heads and that got so many positive comments than
this 27k mile
s 1974 Cadillac Coupe deVille.
The ultra rare color combination in
"Persian Lime Firemist"
with the
Cabriolet Roof option
and the white leather interior make this car something very special and it draws a lot of attention. You cant get anywhere without getting noticed

Its funny - lots of my friends who thought I was crazy for liking a green Cadillac, completely changed their minds when they saw the car in real life for the first time.
Photos don't do this car justice - the color is so vibrant and juicy in real life.
Only 2% of all Cadillacs produced in 1974 were ordered with this optional firemist color at extra cost.
The car has the Cabriolet Roof option.
This describes a special vinyl roof and window treatment. The vinyl is in exceptional condition with no tears, flaws or blemishes. No rust whatsoever underneath it!
The original paint
is in fantastic condition - only very minor blemishes which you have to look for to find them. The body is laser straight and there is no rust to be found anywhere. The paint is extremely shiny and the firemist paint gives it a very special look in sunlight.
From all the cars I drove -
this car would be the one I would take for a very long road trip
. There is something very special about the ride and handling characteristics of this car. I do not know what the secret of the 74 is - but it drives especially nice and it's especially quiet inside.
The car was garaged its entire life in New York and later in Philadelphia - so there is not the slightest color fading on the interior to be found.
The original owner was a doctor in New York before the car was sold to Philadelphia to a collector only a few years ago.
All the
vinyl is vibrant
, no wear, tears, oxidation or any other blemishes.
It absolutely looks new inside and out
. The interior wood and the metal inserts look like they just came out of the factory.
The
white leather seats
are super soft and show no wear at all.
The weatherstripping is extremely soft and in perfect condition - no rips.
The chrome and stainless steel is perfect.
The engine bay is completely unrestored and very clean with only a little patina. It could be restored to full show quality condition very easily - but I decided to leave it completely original.
The car has the
robust 472 engine
which runs like a clockwork. It starts right up and you cannot feel it running from inside the car. No vibration, no shaking - just perfect.
The transmission shifts smoothly as it should. The brakes work perfectly as well.
This Coupe de Ville did not come with many options but it has Air Conditioning, rear defog and working 8 track radio.
The trunk is very clean as well as you can see on the pictures.
The hubcaps are perfect too.
Bumper fillers were replaced by the previous owner and they did a great job matching the color to the rest of the car.
I repaired the power antenna, the seat back locks and replaced the AC compressor and completely cleaned the car.

Click on the image for a huge image gallery of the car.

SOLD in 2014 -
BACK TO ME IN
2021

This is an
all original, unrestored 1966 Cadillac Coupe deVille with only 22.xxx miles in Antique Gold Iridescent
with black interior..
What makes this car very special besides its fantastic condition, is that it is one of the rare cars without a vinyl roof -
a slick top
!
Also it has the ultra expensive and therefore
super rare leather bucket seats
with power adjustments and the luxurious center console!
The car is very well equipped and has
a long list of extra cost options
.
Air Conditioning (works)
EZ glass
Tilt and telescope steering
AM/FM Radio (works)
Cruise Control (works)
Twilight Sentinel (works)
Automatic Dimming (works)
Power Bucket Seats (work)
The color combination is very elegant. The
interior looks like new
. Nothing is worn or faded - a real time capsule.
The original paint is in very good condition with only very, very light patina and looks awesome.
Chrome and stainless steel is in fantastic condition.
Glas all around the car is perfect - no scratches or de-lamination.
Pristine hubcaps.
Mechanical wise the car drives, idles, shifts, brakes and feels like a new car
. Lots of new mechanical parts like brakes and exhaust. It purrs to life immediately and idles without any vibrations. The new exhaust makes it whisper quiet - like it came from the factory.
I also
repaired all the options
on this car to work like the day it left the factory.
Its pretty rare to find a car where EVERYTHING works
- no excuse needed.
The clock is ticking and keeps time, the automatic AC blows cold and warm air and all modes like defog or defrost work like they should. You can set the cruise control and cruise along all day long. Needless to say that the speed reminder functions perfectly as well. The power seats move effortlessly. The carburetor was rebuilt as well and the engine purrs to live without any problem and there is no vibration whatsoever. You can set the twilight sentinel and auto dimming and you do not have to think about turning the lights on and off. The sentinel is perfectly calibrated and works like the day it left the factory.The engine bay is super clean
and all the original factory markings and stickers are still there. I have cleaned everything to perfection, you could eat out of the engine bay.
A real
time capsule
- the best all original 66 I have ever seen. I have driven some other extremely good 65 and 66 Cadillacs and none of these come even close to this one!
It would need a lot of money to restore a 66 Cadillac to the condition this 66 is now - and then it would not be an original car...
The body is 100% rust free
- as the car was always garaged and it spent a lot of time in California. As it was always garaged, there is no fading on the interior.
Lots of the factory markings are still visible.
The engine bay is in show quality as well as you can see on the pictures. You could eat outside the engine bay. There are no leaks whatsoever.
This car is a true time capsule and one of the very best all original 60s Cadillacs I have ever seen and I would drive this car anywhere, as I went through every detail to make sure everything works like it should.
This is a car you can get in and drive all day and enjoy to the fullest as there is no work necessary, as it is already perfect.
Make sure to check out the pictures!
Click on the image for a huge image gallery of the car.
SOLD!!!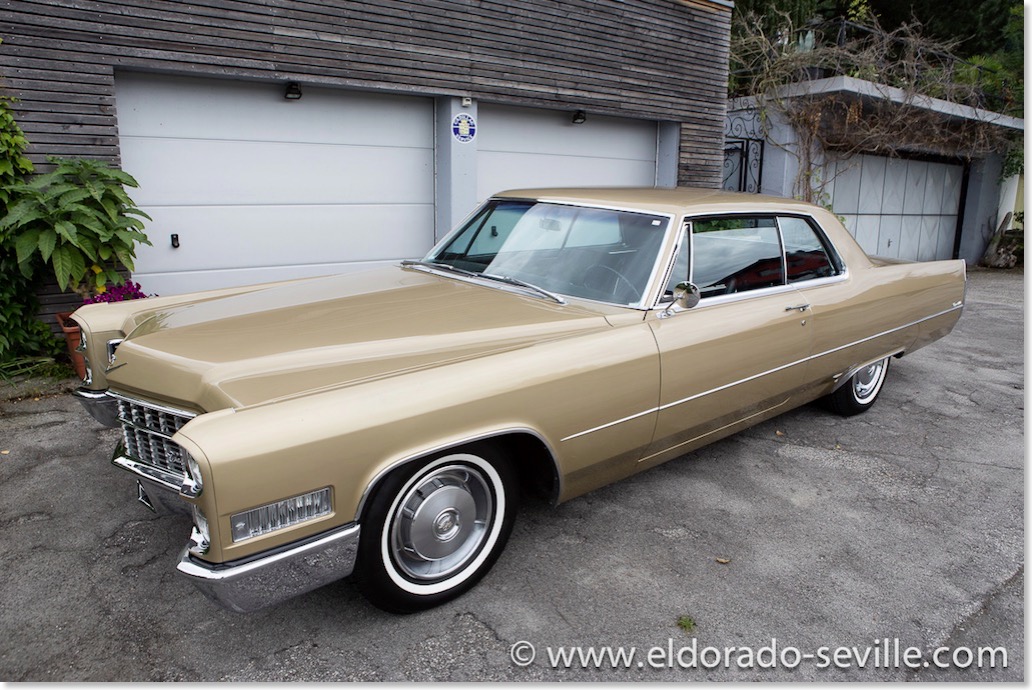 NO LONGER FOR SALE - I WILL KEEP IT!
I will need a lot of superlatives to describe this car!
It's the most stunning and perfect 1978 Cadillac Eldorado Biarritz I have ever seen and that I know of!

It was
collector owned since new
and has
only 11k miles on the clock
. It was even featured in a Cadillac book and I have all the professional photographs that were taken of this car for the book.
It has all the documents and service records from new.
Condition wise
this car is the best car I have ever owned
and I doubt that I can ever find another one like this.
The original "
colonial yellow
" paint is extremely nice and I spent 2 weeks polishing and detailing it to perfect condition. There are only very few tiny stone chips, which are hard to find if you do not know where to look for them.
All the bright work is like new. No scratches or oxidation anywhere.
The car was always garaged, never driven in rain and came from Texas - so there is
no rust to be found anywhere
.
The opulent yellow
interior looks like straight from the show room
as you can see from the pictures. These are the softest leather seats you can sit it.
The original floor mats are still there without any wear.The carpet is like new as well of course.
There was never anything inside the trunk. It looks completely new.
The engine and
engine bay are show quality as well.
The vinyl roof is extremely nice as well - no rust underneath of course.
Everything on this car works like it left the factory.
This Biarritz has
all available options
except the sun roof. Everything else you could order in 1978 is there and works as it should.
I recently replaced and repaired the complete brakes front and rear with all new parts,
as they had suffered from storage, and the parking brake which is a little complicated did no longer work.
I went through all the mechanical stuff,
repaired the AC
and would now drive the car anywhere.
The previous owner installed
brand new Vogue tires
which look great on this car in my opinion.
The easiest and most fitting way to describe this time capsule would be to imagine its 1978, and you have a chance to buy a very well cared for dealer demonstration car which is a couple of months old.
The car comes with the smooth 425 engine which purrs like a kitten and a perfectly shifting transmission.
Why am I selling? To be honest: Too many cars to be able to properly care for them all, not enough time and funds…
Click on the image for a huge image gallery of the car.