Welcome to
---
Geralds Cadillacs
My humble Car Collection
---
Info, Restorationtips and Tricks, Pictures and general Information about my Cadillacs.
Recent Blog Post:
---
Cadillac BIG Meet
The 2018 Edition
---
The Cadillac BIG Meet is held every second year and is Europes BIGGEST Cadillac Meeting. I´m part of the organization team and despite some terrible weather the show was a big success with lot of great Cadillacs at the show field....
My Car Collection
Info about my cars
---
My humble collection consist of a couple of very nice cars. I do own a 1958 Cadillac Eldorado, 1967 Cadillac DeVille, 1967 Cadillac Eldorado, 1974 Cadillac Coupe deVille, 1978 Cadillac Eldorado Biarritz , 1971 Continental Mark III and a 1996 Buick Roadmaster.
For Sale
CLASSIFIEDS
GREAT CARS FOR SALE
---
I absolutely hate selling cars and I still regret selling some of my cars in the past. On this page I will also add some cars my Cadillac friends have for sale and which I know personally. I´m no dealer or car flipper - so this page will be empty most of the time ;-)
My website is not meant to show off my cars or to boast about what I have, but to connect with other Cadillac aficionados world wide. I did the first version of my website in 1997 and since then have made many friends through it. I came in contact with so many nice people and this is why I´ll keep doing it. It also serves as a kind of diary for me, to keep track of my car activities and repairs. I´m always happy if my little articles can help others with their own repairs and to solve their car problems. I´m no professional dealer, mechanic, nor do I have any professional car related background.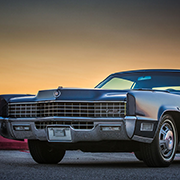 A modern browser.
Microsoft browsers are terrible and not fully supported.
Some time to browse through my pages

Some pages take a while to load.
Be patient and enjoy!