Cadillac Big Meet is coming up!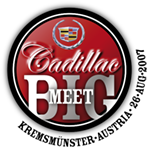 The Cadillac Big Meet is Europes largest and best Cadillac Meeting. You should not miss it! Cadillacs of all years get together at the Kremsegg Castle in the heart of Austria on August 26th. 2007 is the 4th edition of this meeting, and you should not miss it. I´m in the organization team and we are already working very hard to make this years edition the very best one we had so far. We will especially feature the 5 decades of the Eldorado and are trying to have at least on Eldorado of each year on the show field!
For more info go to the website of the
Cadillac Big Meet!