FINISHED THE 1974 CADILLAC ENGINE BAY RESTORATION PROJECT
In September 2016 I
started to repair the AIR pump which had a broken pulley bolt
.
The repair of this little bolt resulted in a partial engine bay restoration, which was never planned
. But as I had to take out quite a lot of parts to access the pump I noticed all the flacking paint and surface rust any 43 year old original car develops.
I did not want to put all these not so good looking parts back into the car, so I decided to clean everything up and detail everything
. It included taking out the radiator, condenser, all brackets, AIR pump, generator, all pulleys, power steering pump, AC compressor, removing all the rust from the parts and repaint them, repaint the engine, have some parts powder coated like the fan,
dry ice cleaning
,
rebuilding the AC compressor
, straightening the condenser fins
and MUCH more
.
Everything that came out was cleaned up, and wherever I found some surface rust or flacking paint it was completely removed and the according part was repainted.
I had to do all of this on a
very tight budget
, but luckily the total cost of this project was extremely low, as all I needed were 3 cans of paint, some wire brushes and some cleaning chemicals .
I took a break from Nov. 2016 to April 2017 where I did not do any car related work at all. During the last 2 weeks I finished everything, and the car is now ready and only needs a good cleaning prior to the upcoming season. When everything was back together the car started up immediately (see video below) but I could not let it run for a longer time yet as the engine enamel (I used Bill Hirsch engine enamel) needs at least 2 weeks to fully cure.
I did not restore parts which still had their original decals, because some are irreplaceable, as there are no correct reproduction decals for the 1974 Cadillac out there
. Many decals for sale for the 1974 Cadillac are totally incorrect - beware! For example there is no correct "Caution Fan" decal or AC compressor decal available anywhere. So there is still some patina left on some areas, and at first glance the engine bay does not look restored at all, but more like an extremely well kept car with very low mileage. I did not want to go for this over restored look.
But let the pictures speak for themselves -
here are 3 Before/After pictures (Click on them for a larger view
) and
the rest of the restoration pictures can be found here
.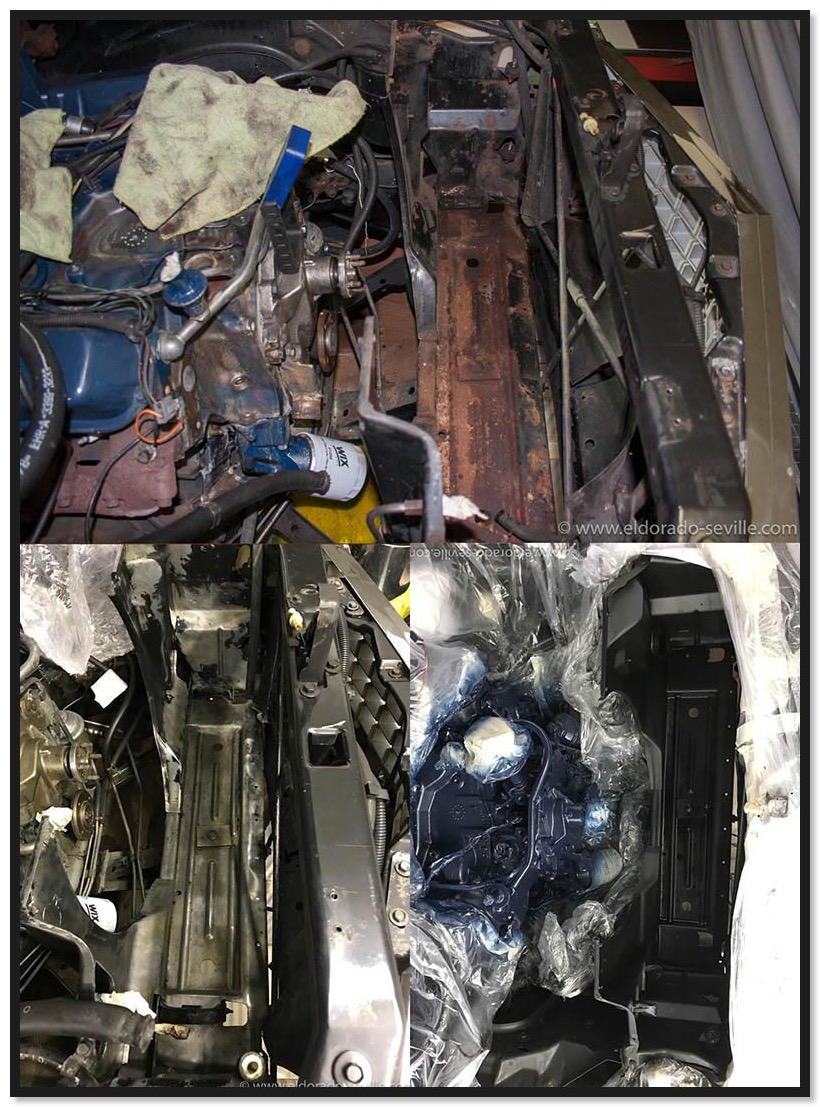 The radiator support frame before, after removing the rust and after painting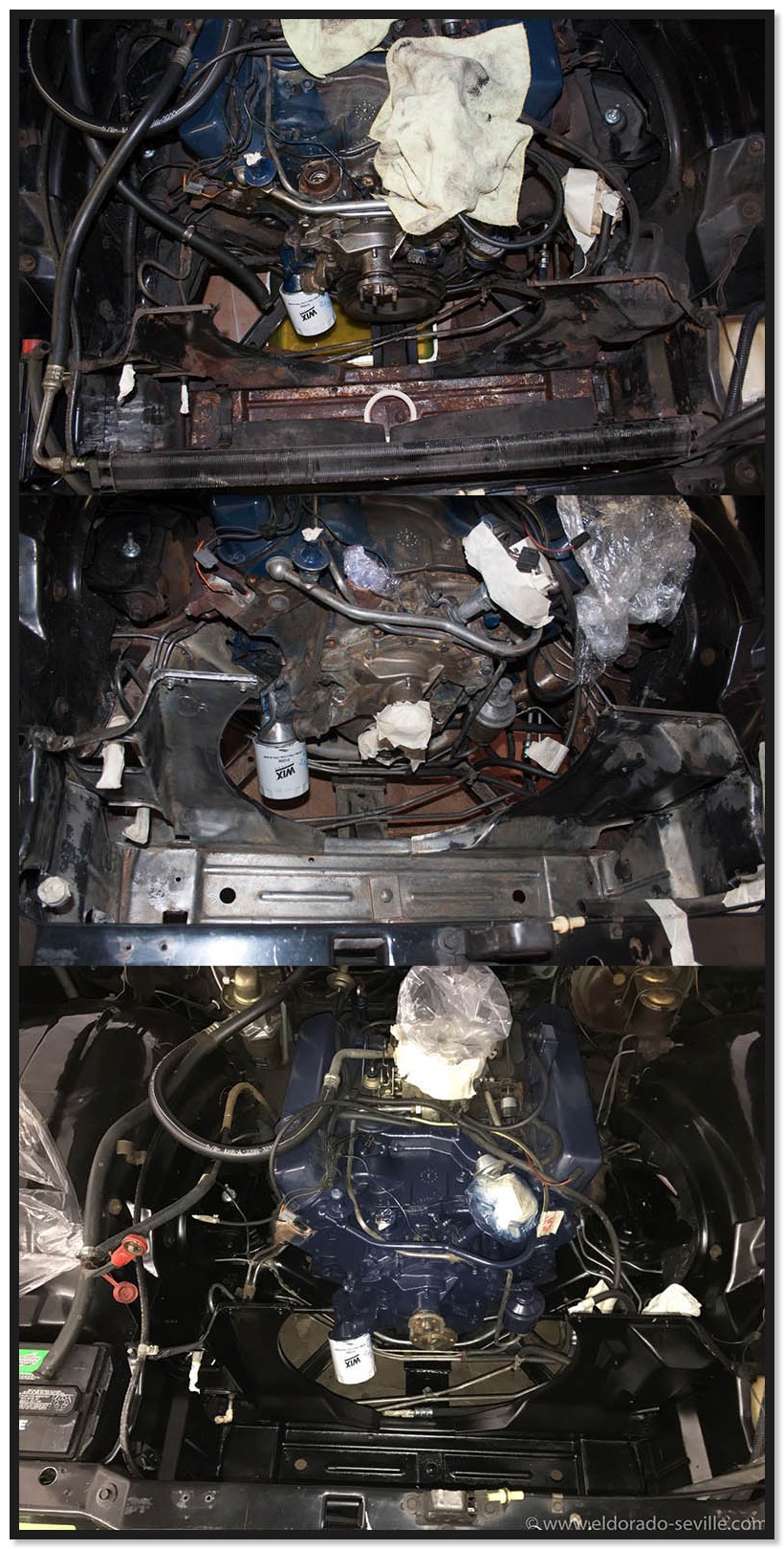 The radiator support frame before, after removing the rust and after painting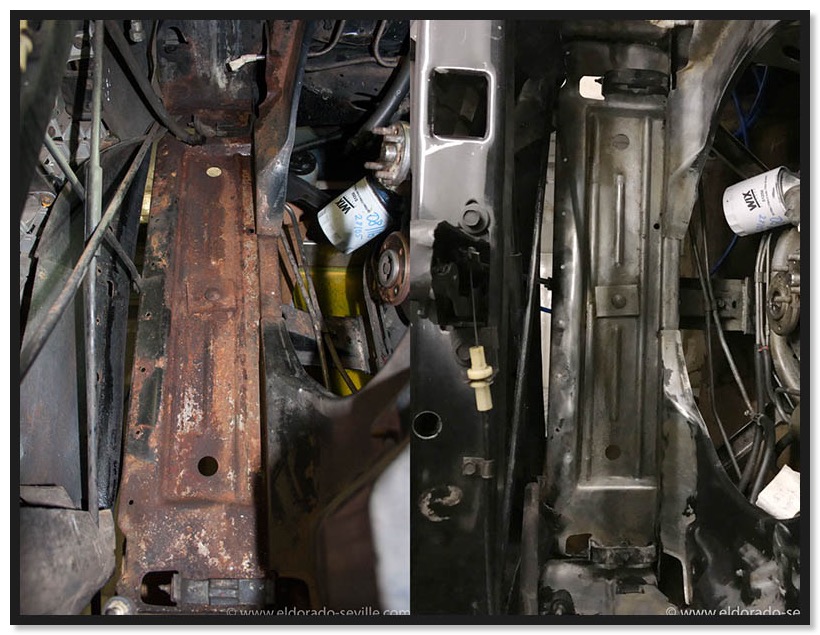 Before and after rust removal

Here is short video of the first start up after the restoration.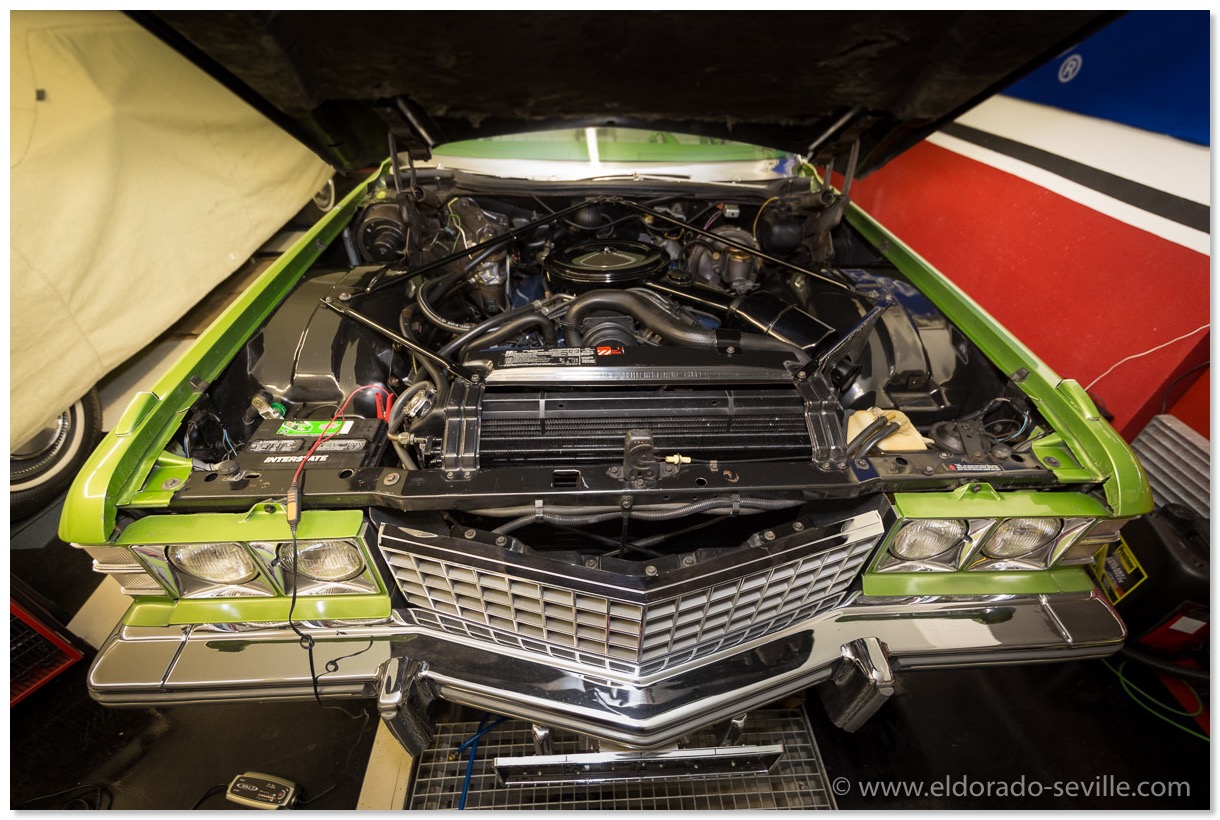 The finished engine bay looks pretty nice!


More pictures of the finished engine bay can be found here.